ISO9001 Quality System Certification,ISO14001 Environmental
2020-09-30 13:47
NAIBU is certificated according to ISO 14001. Additionally, the environmental management system comprises areas such as working environment (OHSAS 18001),as well as quality management(ISO9001).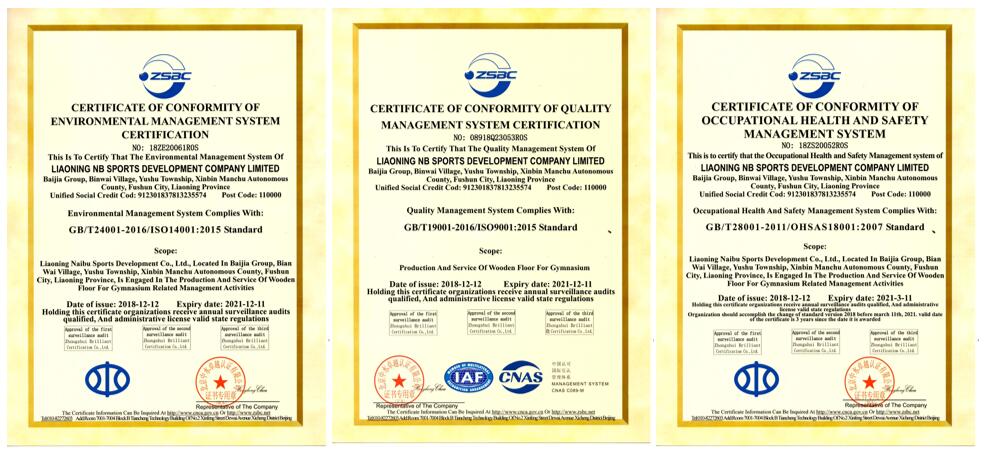 Since 2006, NAIBU has been ucessfully meeting the callegeof competitin. The professional team which has given us a competitive edgeunrivaled to this day: Our experlence in wood that has been handed downthrough the generations.
We have been producing the most important indoor sports equlpment - the sports floor - on the most advanced machinery for over 14 years.
A NAIBU Sports Floor is a high-tech product of the finest qually,designed for the benefit of arena operators, athletes and investors alike. The athletes love its superior performance, investors and building owners the low maintenance costs of the floor, and arena managers profit from the possibility of multi-purpose use. NAIBU Sports is always a win-win decision.
NAIBU Sports Floor offers the best basis for a powerful performance.
In China,NAIBU is a very important manufacturer of athletic flooring systems used in high-school gyms, college and professional arenas, and public and private training facilities.

Service
In order to improve the standard of brand service, to create a differentiated extreme customer experience, to increase the brand's reputation and product value, NAIBU provide a variety of special services: one-to-one customized service to solve all kinds of problems for you, and from the delivery, installation, acceptance of the three aspects of the overall optimization, for you to bring a better brand experience.